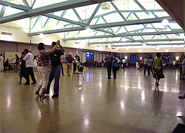 Balboa Park Dancers meet weekly on Friday and Sunday nights at the historic Balboa Park Club in Balboa Park. We provide an inspiring environment and huge hardwood dance floor for learning and improving dance skills.
Couples and those without partners are welcome. Lower-heeled, closed-toe and closed-heel shoes are recommended for dancing. For more tips, check our Ballroom Etiquette page.
Each night we teach group lessons in 3 levels of instruction, beginning, intermediate, and advanced, in one smooth or standard ballroom dance and one rhythm or Latin style, changing dances monthly. Both lessons cost only $3 for members, $5 for non-members, $3 for active military with ID, and $3 for full-time students with ID. During the year, we cover ballroom dances and more: Foxtrot, Waltz, Tango, Quickstep, Rumba, Samba, Cha-cha, Hustle, Viennese Waltz, Bolero, Salsa, Eastcoast and Westcoast Swing. Our teaching generally follows the USISTD Syllabus.

The second Friday of each month is usually a party night of social dancing and mixers with only one special lesson provided by our Host/DJ. The entrance fee for members is free; non-members pay just $5. Occasionally a party night may include live music or performances. Check the schedule to see where and when we are dancing.
Dancers are encouraged to change partners during class and during general dancing sessions, so it is not necessary to arrive with a partner. Switch out those two left feet! Have fun, get some exercise, and meet your fellow dancers.
The entrance fee for active military with ID and full-time students with ID will be $3.00.
To receive email updates, please sign up for our free NewsNotes listed on the left hand side of this page. All dancers must subscribe to receive these updates.
Annual Schedule
| | |
| --- | --- |
| Jan: Viennese Waltz, Slow Two Step | July: Foxtrot, Salsa |
| February: Tango, Cha-Cha | August: Quickstep, Bolero |
| March: Foxtrot, Salsa | September: Waltz, East Coast Swing |
| April: Quickstep, Rumba | October: Tango, Cha-Cha |
| May: Waltz, Slow Two Step | November: Foxtrot, Samba |
| June: Tango, Hustle | December: Waltz, West Coast Swing |
Your Board of Directors
President & Board Chair: Tim Waldowski
Immediate Past President: Jim Beaver
Vice President: Riny Legerwood
Membership Chair and Trustee: Barbara Waldowski
Secretary: Luis Leon

Treasurer - Books: Maria Sandstrom

Treasurer - Cash: Tammy Ying

IDA Delegate: Dorothy Jenison
IDA Delegate: Karen du Fau
IDA Delegate: James Wang
Contact Us: president.bpd@gmail.com
Membership Renewal
Hello Everyone - Our 2016 membership renewal drive is in process! We will be taking renewal dues of $20.00 to take your memberships through 12/31/2016!

Your membership dues are used to cover the administrative expenses of the club. Your board of directors are all volunteers. Only our instructors and cashiers are compensated for their efforts for the club.

This year, anyone who renews or joins before 11/29 will be entered in to a drawing for free entrance for the month of January 2016.

EVERYONE who renews before 12/31 will receive a free magnetic name tag (to be issued and delivered in January). These name tags will be $5.00 thereafter.
---
November Schedule
We are teaching Foxtrot and Samba.
Classes are canceled on Friday, November 6th.
There will be no party in November due to Thanksgiving and the run-up to Christmas.
---
Announcements
We have a number of items left in the ballroom collected in our lost and found bag. Check and retrieve your items please.
---
NewsNotes
To receive an email announcing our monthly schedule, plus immediate notification of any cancellation or move to another building, select NewsNotes on the left hand side of this page.
What we teach

Whether it be ballroom, latin, swing or nightclub dancing, Balboa Park Dancers Ballroom Dance Club has something for you!

We meet twice a week, on Friday and Sunday evenings and hold two lessons per evening.

Both lessons cost only $3 for members and $5 for non-members.

Memberships are $20 per 12 month period (January through December), and include free admission to monthly Party Nights.

Memberships are available from our Membership Chair and our Cashiers, just inside the ballroom. We accept cash, or checks only with approved ID.

Click HERE to see the Class Schedule of what we are teaching this month